Cooperation partners: our proven network
Our network of partners in Salzburg and the surrounding area ensures that we can offer owners and interested parties almost all aspects of a real estate project from a single source. Reliable contacts from the sectors of real estate valuation, energy performance certificate preparation, financing brokerage, trades and more complement our team.
Partner for owners
For sellers and landlords, the valuation of the property is crucial. This is done by us and an expert for real estate valuation. Through this comprehensive assessment of the property value, you avoid the risk of a price that is too low or too high. Thus, the process of selling or renting can be accelerated.
The energy certificate for your property is also prepared by our partners. Whether you are renting, leasing or selling - the energy certificate is mandatory in Austria. Therefore, it is an important part of our service package for owners.
Partner for interested parties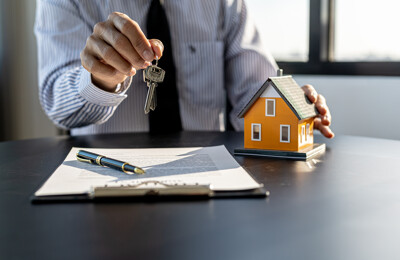 Financing becomes an issue for prospective buyers. We arrange a financing partner if required. This can be a bank or an experienced financial advisor. With this partner you will discuss the key data of your loan and may even receive special conditions. However, we have no influence on the loan itself - it is the factors you bring with you that decide. Think, for example, of the proof of equity capital.
If you have found your dream home, but would like to customize it a bit more, the referral to craftsmen plays into your cards. They will customize your property, creating modernity or accessibility, for example. You would like to buy or rent a property in Salzburg and move in as stress-free as possible? Then we will tell you where you can find suitable moving companies. Because they are also among our contacts.
Partner for all
In legal matters, you are well advised with a notary or lawyer from our network. This applies to both owners and prospective buyers. You can be sure that the purchase or rental contract is legally binding and does not contain any inadmissible clauses or formulations. Security for both sides is one of our highest goals. We make this possible through our partners with the necessary expertise. Nevertheless, we are of course happy to accompany you to the decisive notary appointment and answer your open questions.
Advantages through the network
Our network saves you time in the search for suitable and reputable service providers. Our recognized cooperation partners have been our contacts for a long time and some of them have proven themselves several times. Therefore we can recommend them with a clear conscience. You don't have to be afraid of getting dubious partners or exaggerated offers especially in the area of financing.
Furthermore, the short scheduling is an advantage. Many partners in the network keep capacities free for our customers and thus allow spontaneous deployment. Month-long waiting periods, as they are usual with many craftsmen, are omitted with a little luck for you.